5 Ways To Be More Confident In College With AcneFree
Note
:
This post may contain affiliate links. Please see my disclosure for more details. Thanks for supporting the brands that make The Happy Arkansan possible!
Disclosure: This post has been compensated by Collective Bias, Inc. and AcneFree. All opinions are mine alone. #AcneFreeSummer #AcneFreeLife #CollectiveBias
The end of summer is coming quickly and it's almost time to go back to school. It's crazy how quickly summer fades when you are having fun.
With back to school on the horizon, it's important to feel as confident as you can, especially if you are going to a new college or school. Today I will be sharing some easy things you can do to boost your confidence.
1 | Smile
This is SUCH a simple tip, but you would be surprised what a simple smile can do for your confidence. Smiles release all those happy endorphins, just like exercise. This will create happiness, positivity, and confidence within you.
The great thing about smiling is that you don't really need anything to smile about. All you have to do is curve your lips up and you get the same results as a genuine smile plus your smile attracts people to you!
2 | Communicate How You Feel Most Comfortable
I am an introvert, y'all, and you can be too! Don't force yourself into situations where you have to communicate in a way that makes you nervous. That doesn't mean you shouldn't try new things when you go to college, but you don't have to always force yourself out of your comfort zone. Even at a party you can find a small group of people to talk with if you are an introvert. If you take the time to communicate how you feel most comfortable you will flourish and feel more confident.
3 | Create An Action Plan
So many people come to college without an action plan. Some people (shout out to all the Type As out there) just do better with a plan, I mean, all people do better with a plan to be honest. So, create a plan for how you will succeed in college.
How will you define success in college?
Where will you find your new friends?
How will you study for class?
Have a plan for all the things that could happen in college. Creating that plan today will help you feel more confident when you step foot on campus. Plans change, but having some semblance of an idea about college before you go will help ease your mind.
4 | Drink More Water
Water is amazing for you. When you drink more water than other drinks like soda and juice you create a healthier inside which is bound to make you feel more confident. Confidence comes from the inside, truly, so making healthier food and drink choices will make you feel better and more confident.
5 | Take Care Of Your Skin
While the water takes care of your insides, you also want to take care of your outsides. Even though a lot of your confidence comes from within, a lot of people don't feel as confident if their outsides don't match their insides. Taking care of your skin is a great way to make yourself feel more confident.
I am so happy because I got the opportunity to try out a couple of cool products from AcneFree to help me feel more confident and I can't wait to share those products with you today.
I think young adults and adults in general are always in this limbo of being upset with their skin. We are often told that acne is a teenagers problem, which makes us think that our skin is somehow awful because we still have acne as an adult. Acne happens, but there are many things that we can do to take care of our skin and help the situation.
I don't have awful skin, but I consistently have small amounts of acne on my face. I was excited to partner with AcneFree to test out one of their duos and their full 24 hour system. I think that both products are great depending on what you need at the time. The duo includes an awesome battery powered brush and their cleanser. The 24 hour system I got from them includes all three steps: the cleanser, toner, and repair lotion. They have so many options for your skin so I would explore the products to see if you do well with just a duo or getting the full blown system.
I tested the system out on my face for twice a day for 4 days to see how these products would affect me. The before and after pictures will be at the bottom of this post as I took these blog photos at the beginning of my journey.
The AcneFree Advanced Deep Cleasning Duo is absolutely perfect. It comes with everything you need to help clear any blackheads and acne breakouts you have as well as deep cleaning your pores. It has two speed settings, and it even comes with batteries (what comes with batteries anymore?!)
Sometimes the best way to help care for any acne you have is a good deep clean. It's hard to get that with a regular face wash because you can only turn your hand so much. This brush is great because it rotates for you so all you have to do is move the brush around your face and feel it do all the deep cleaning on its own.
I really love AcneFree because you can purchase it so easily. I picked up my AcneFree products from Amazon and they were at my door super quickly because I had Amazon Prime. Yay for 2-day shipping so I could quickly get started adding these amazing products to my skin care routine.
Now, if you are truly like me, you may say, I need it all! AcneFree has some wonderful product systems just for that y'all!
AcneFree's 24 Hour Acne Clearing System is a great option for someone who wants a full regimen to help them with their acne-prone skin.
---
This system includes three steps:
Step 1: Oil-Free Purifying Cleanser: This solution, that should be applied twice a day, helps to deep-clean your skin. The exfoliating microbeads in this cleanser helps to remove dirt and oil from your pores and skin as well as eliminate acne bacteria.
Step 2: Renewing Toner: This awesome toner includes vitamins, witch hazel, chamomile, and aloe to help even your skin tone and control the oil you have throughout the day. You should also use this twice a day after you use the cleanser.
Step 3: Repair Lotion: You use this awesome lotion twice a day after you cleanse and use your toner to help fight acne bacteria and help stop new breakouts before they begin.
---
If you have tricky skin AcneFree has multiple formulas of this product: one for sensitive skin and one for people with severe acne. I don't have particularly bad acne or sensitive skin so I just picked up the 24 Hour Acne Clearing System.
As a college student I know that it can be difficult to invest in anything, but I think that this makes an excellent investment, and a pretty reasonably priced one at that. You can get either of these products for less than $20! That's a great steal in my opinion, especially because all of these products last so long (no tiny baby sizes in these products.)
Do you want to shop these products? Hover over this picture to see more and shop all of the products below.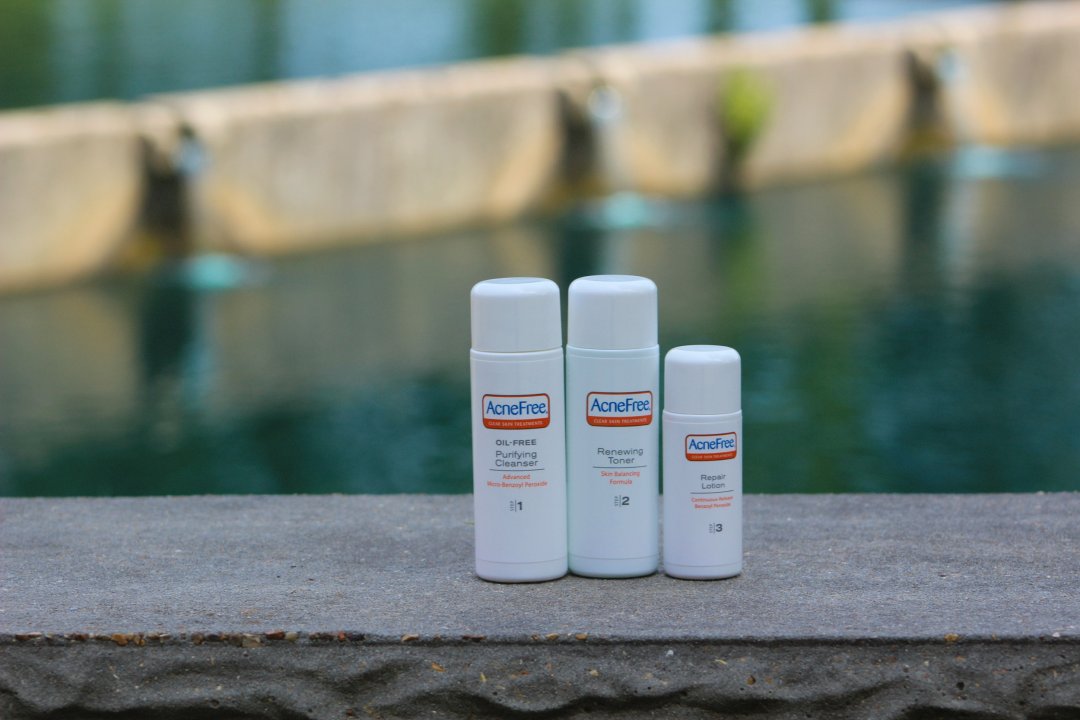 ---
As I stated earlier, I started utilizing these products the day I took these pictures for the blog. I made sure to document a clear picture of my face after every use so that you could follow along with the journey to clearer skin. Keep in mind these are my results after 8 uses. I will have to keep y'all up to date after I make this a bigger part of my routine.
I wanted to test these a bit more for y'all, but I got sick through this process and I honestly think that really messed up with my review of this process as being sick is known to cause acne flare ups.
I wish that I could have kept my lighting as consistent as possible for you, but unfortunately that wasn't possible. Some of these pictures were taken in my bathroom while others were taken in my bedroom and they both have drastically different lighting.
I think I personally started to notice the most change around use #6-7.
Try AcneFree For Yourself!
AcneFree is doing an awesome campaign starting TODAY! Here are the deets:
AcneFree is launching a 4-week sweepstakes on August 14th, 2017. 3 Grand Prize Winners will win $1,000 spending money and AcneFree Supplies for a year. Additionally, AcneFree will give away 10 AcneFree® 24 Hour Acne Clearing Systems every week for 4 weeks.
No Purchase Necessary. To enter, simply enter your name and email address at http://cbi.as/9rasp Use the form to follow on Instagram and Facebook to earn extra entries.
For more information full rules, log on to http://cbi.as/9rasp
What Does Your Skincare routine Look Like?